Cast Iron Pillar Lamps
Our collection of Lamp posts, pillar & wall lanterns are made entirely of from high quality grey cast iron and are then finished as standard with a rich semi-gloss black finish. Inspired by history & tradition, this range of Dutch made Lamp Posts are without doubt the finest products of their type available in the United Kingdom.
Normally supplied in Black, we can also supply other colours to special order.
Available now complete with a range of Copper heads - a stunning collection of lamps.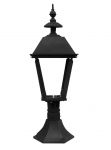 A European made, black cast iron pillar top or bollard ..
£125.00
Buy Product